Want some good Tinder pickup lines? Here are 17 funny ones that work (almost) every time.
Normally on Tinder, you don't rely on pickup lines to set up face-to-face dates (which, by the way, should be your goal if it isn't already) – it's actually the ensuing conversation is the deciding factor.
That being said, you DO need to know how to start Tinder conversations the right way, because some openers work better than others. This guide will help you develop your own unique openers to get women investing into a conversation with you.
MORE: 17 Tinder Tips to Change How You Swipe Forever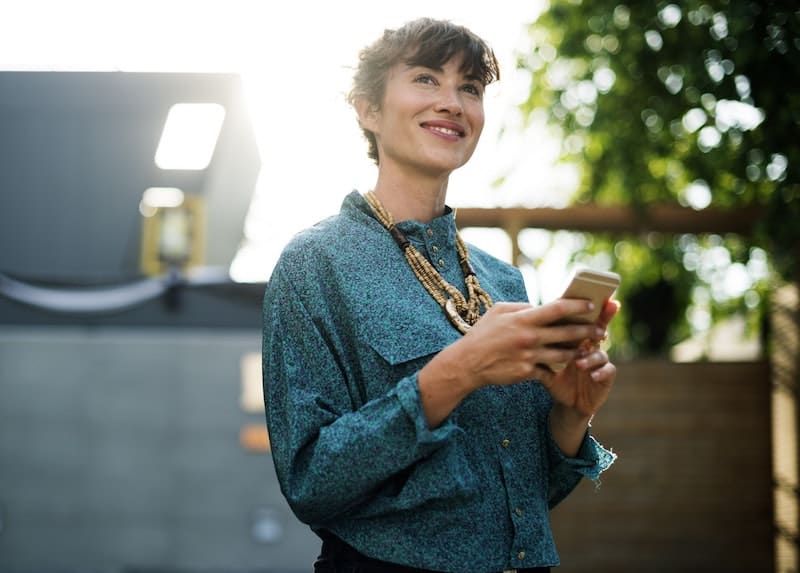 [toc]
What it's Like to Be a Woman on Tinder
First of all, you'll need to understand that women on Tinder get MUCH more attention than men on Tinder. [R] It's a reflection of how things are in the real world, as well – the women are the sellers, and we are the buyers.
That means two things:
When you use canned lines on a girl, she's probably heard it before.
When she's heard your pickup line before, then she'll think you're "just another loser…" and so she either won't reply to you, or unmatch you promptly.
So if you're thinking of using scripted pickup lines on Tinder, you're in for a lot of disappointment and frustration.
"Don't use these exact scripts, but rather adapt them to your advantage"
You'll need to do better than that.
Traits of a Good Tinder Opener
The definition of a "good" Tinder opener is one that engages the woman you matched with in a conversation. That means you'll need to do the exact opposite of "canned" or "scripted":
Your opener has to be original;
Your opener has to be funny, interesting, or exciting; and
Your opener has to relate to her in some way.
With regards to #3: There are lots of things you can riff off of that relates to her, including her name, her photo(s), and her description.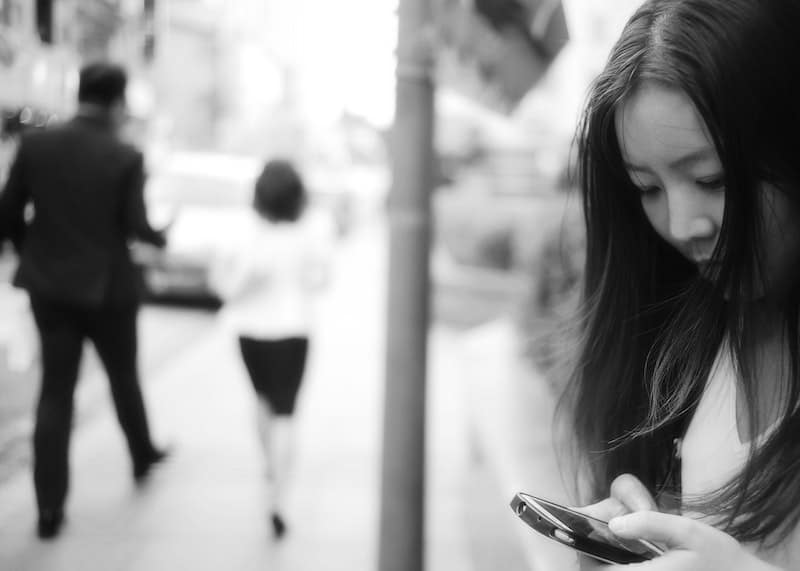 Basically: When you match with a girl on Tinder, you have everything you need to start a conversation with her.
But let's make opening Tinder conversations even easier…
17 Tinder Openers That Have Worked Before
Here are a bunch of Tinder openers (all borrowed off Reddit) that should give you enough ideas to work with:
If a girl likes certain movies that you like too, you can use that to open the conversation with her, too. If you're a Star Wars fan, you'll get the joke in the example below: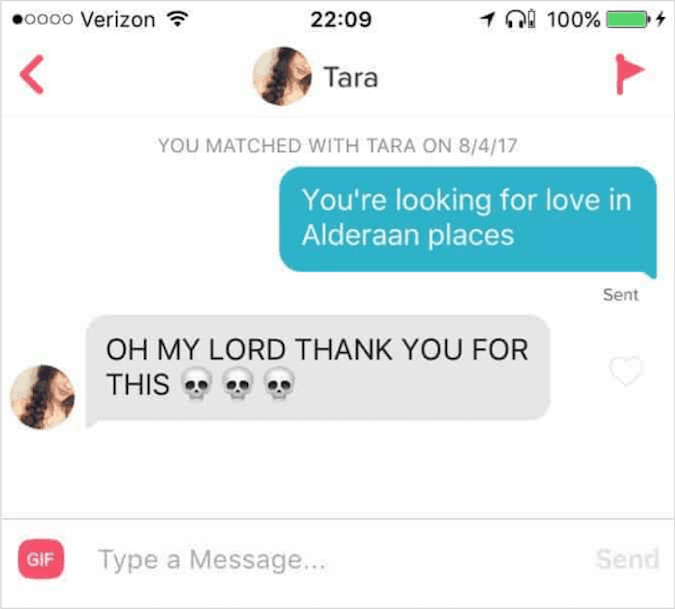 Name puns are slightly overused, but that's only because they work quite well on Tinder. Here's how a couple of witty Tinder users opened "Sarah" and "Mechelle":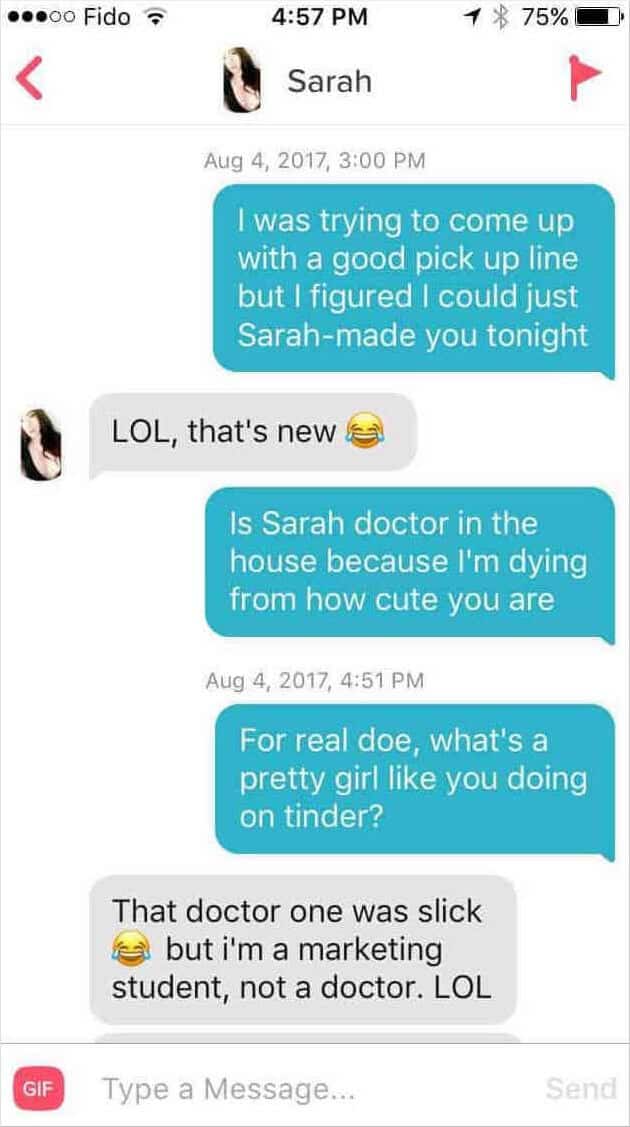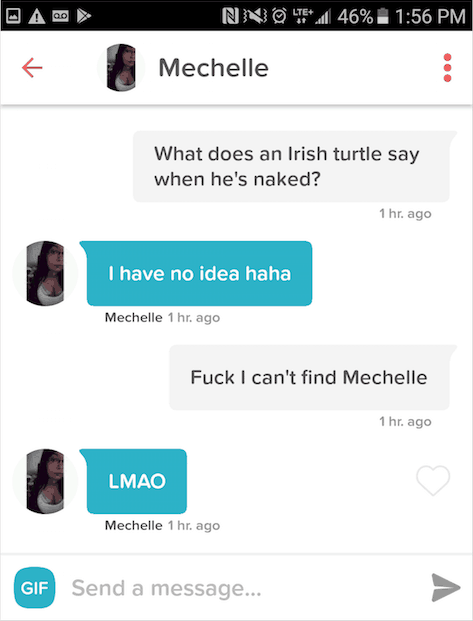 #3: Play on a Physical Attribute.
Check if you have a certain similar/different physical attribute – it might be a good opener just waiting to be used. Here's one where the guy used their difference in skin complexion to break the ice: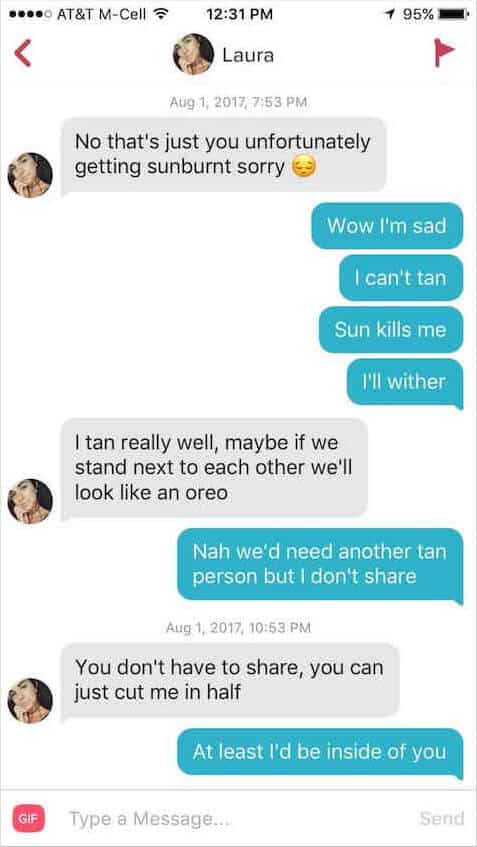 #4: Funny sexual openers.
Opening with a sexual slant is always risky… but if she thinks like you, she just might bite. Here's an example of a guy lucking out using this kind of opener: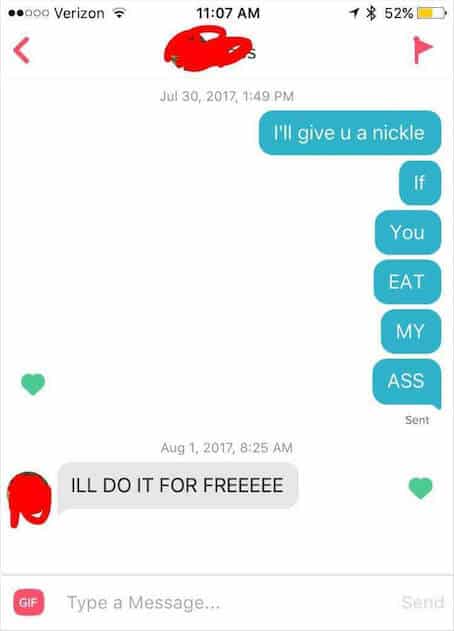 #5: Fun Rhetorical Questions.
If she can think of a witty answer to your question, she won't be able to resist replying – and you can then build on that conversation. Here's an example: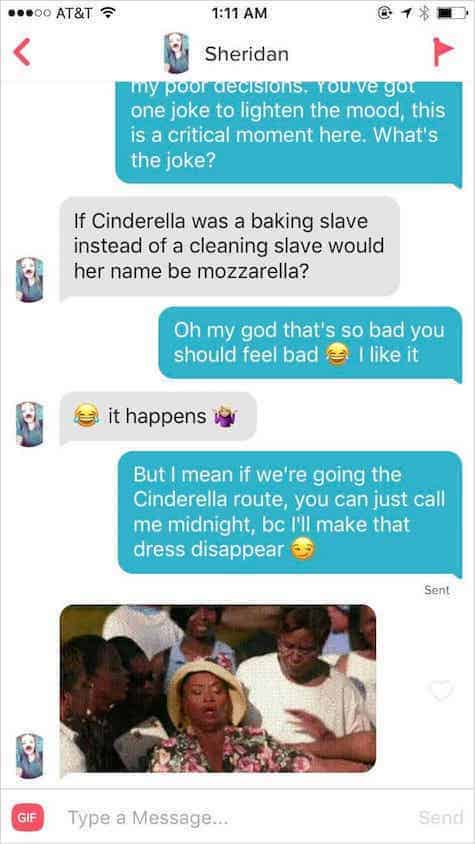 #6: Questions that are Answerable by Her Name.
If a girl has a unique name, see if you can play with it – like what this dude did: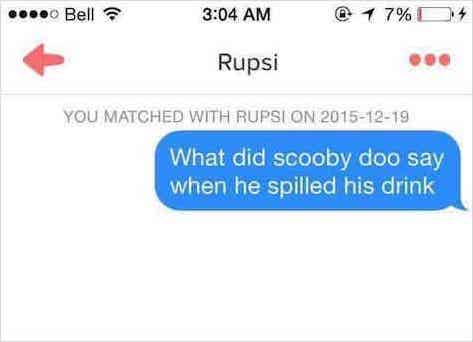 This is where you basically describe, in humorous detail, what you want to do with her. Here's a hilarious example where the guy made a "bid" because the girl had a career in finance: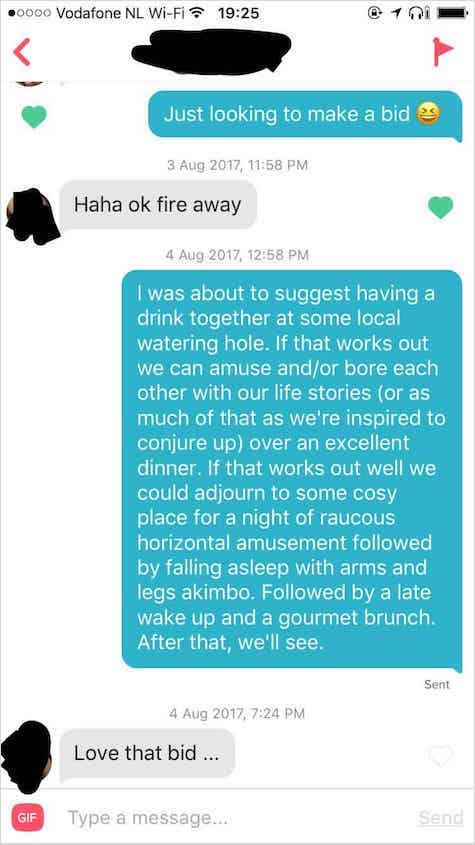 #8: Playing with Her Name.
A popular game is to come up with as much wordplay as you can from her (or each other's) names. Here's how this guy played with a girl named "Bee":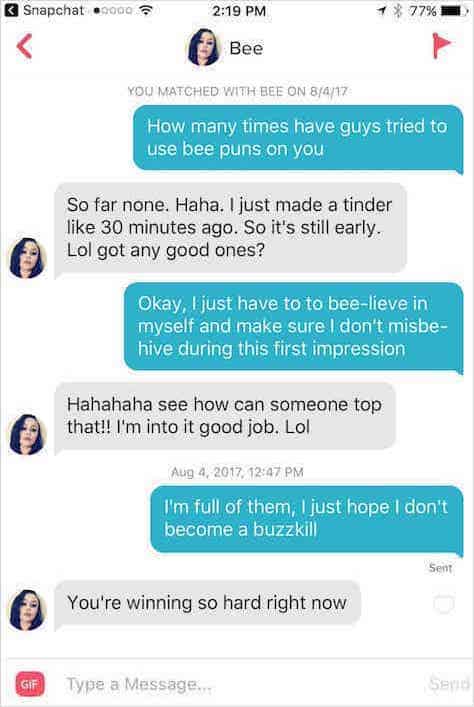 #9: Going Straight to the Point.
Sometimes, just going straight to the point does the trick. Here's how a couple of guys did it: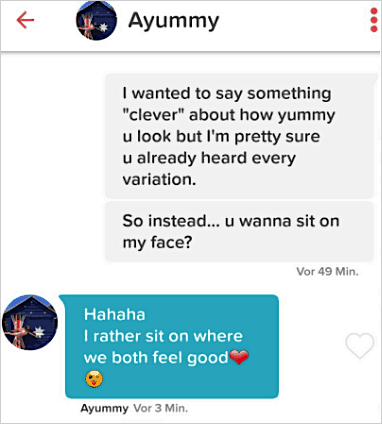 #10: Tell Her About Something Funny You Did Recently.
This might work if she's bored or if she's just in the mood to chat, not flirt. An example: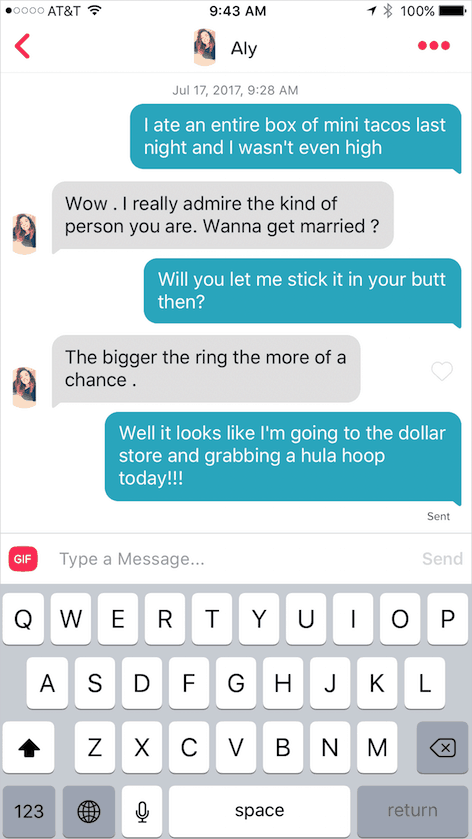 #11: Using Her Name in a Popular Song.
If her name fits into the lyrics of a currently popular R&B or rap song, try it out. Here's how this cheeky dude used "Emily's" name in his opener: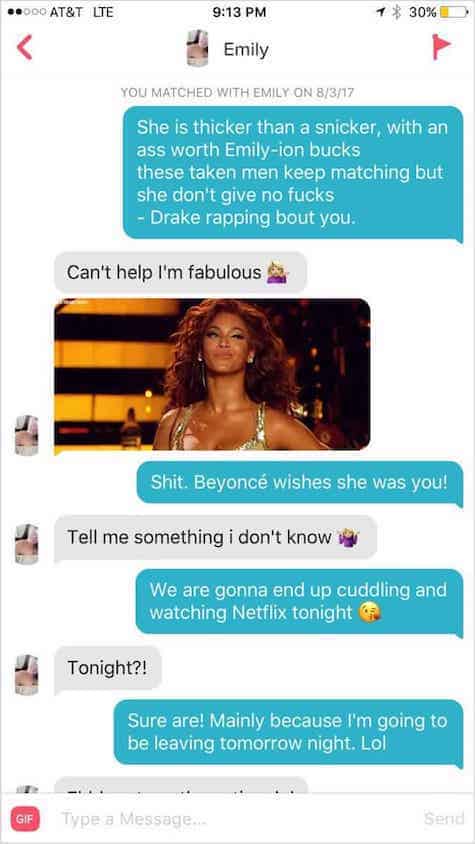 #12: Inviting Her Out to Food and Sex.
It's the simplest kind of date, it's fun for both of you… and you'll never know if she's down for it, too. Try this out sometime: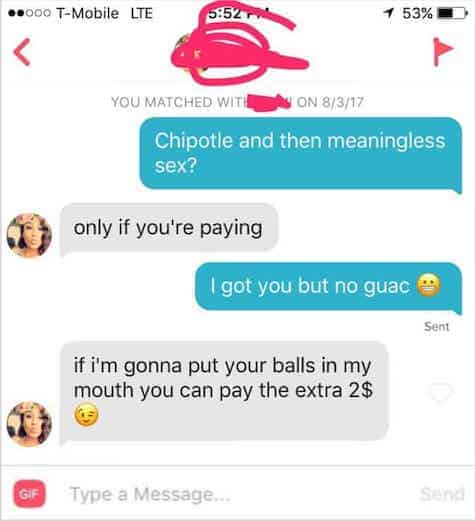 #13: Asking About Her Day.
Happily married couples do this all the time, but it can also work as a Tinder opener… especially if she feels like ranting, such as in the example below: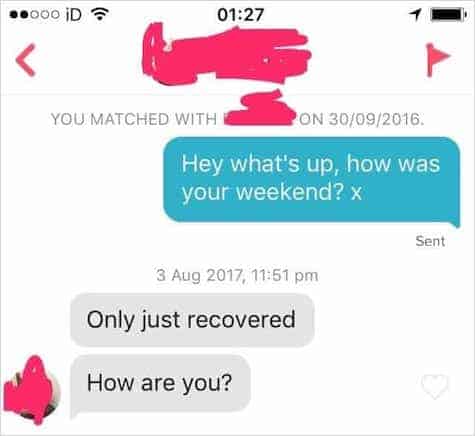 #14: Give the First Half of a Joke, and Make Her Ask for the Rest of It.
I'll let the example below speak for itself: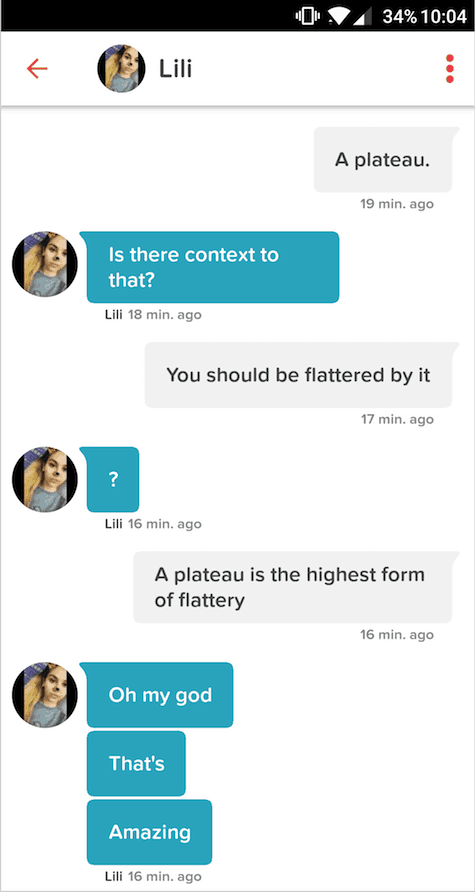 #15: Asking Her for A Line.
This is basically asking her to pick you up – and yes, you never know if she's up for it. If you keep it interesting, she can end up chasing you and asking YOU out – which is always a good thing. Check out the epic example below: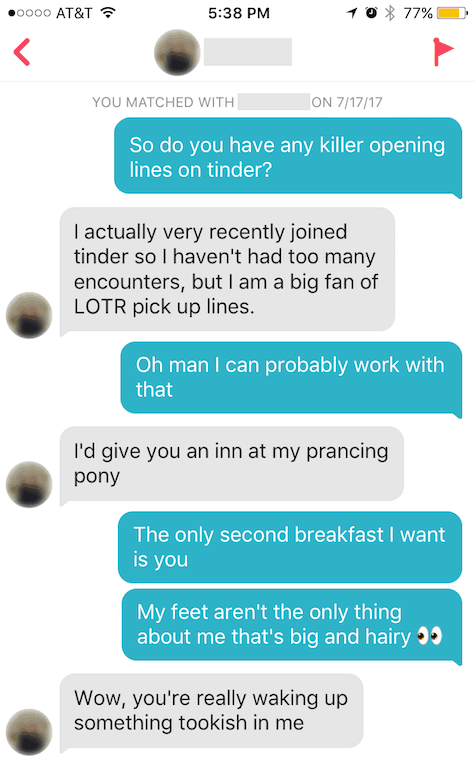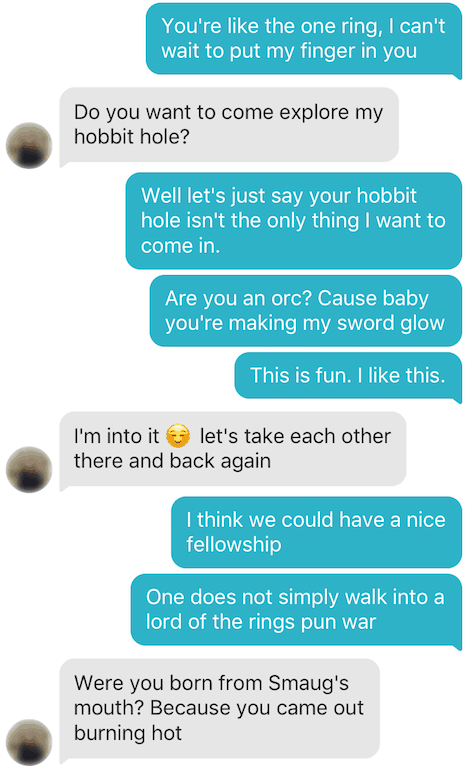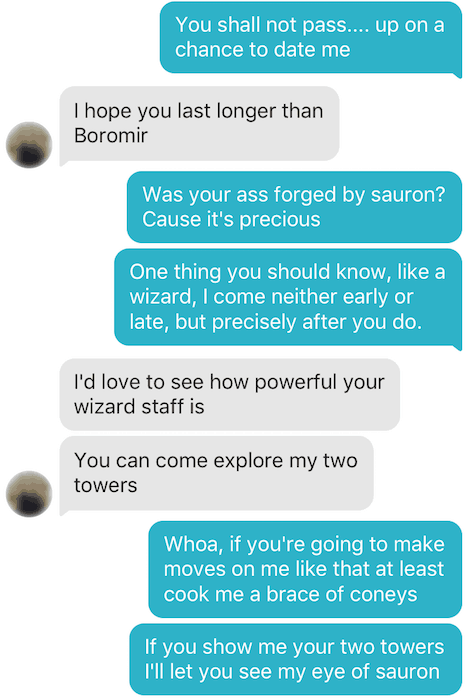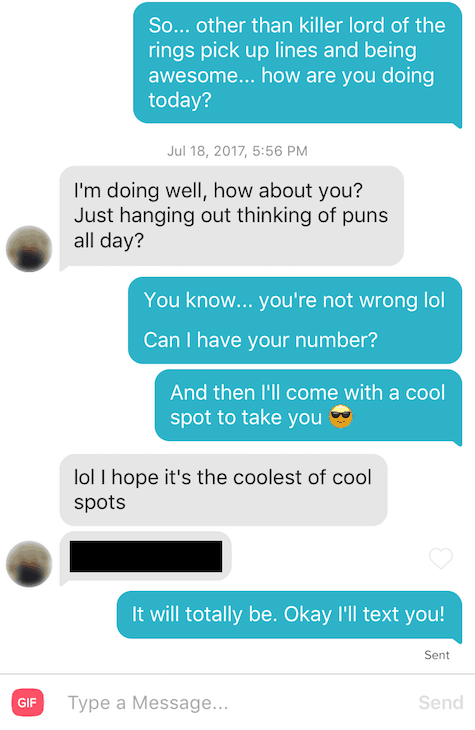 #16: Ask to Make a Business Contact, then Ask for Her Number.
She won't be expecting it, so she'll be tempted to give a reply just to see what you're like. Here's how this guy made the most of it: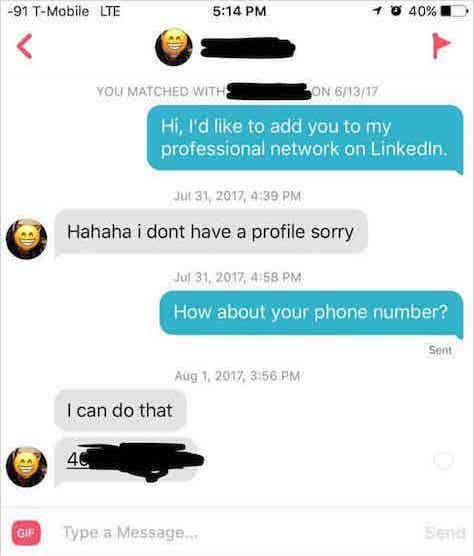 #17: Asking Her for a Joke.
It's like asking her to pick you up, only this time it's only to make you laugh. But it works for the same reason: It makes you look interesting enough to check out. An example:

Follow Up Strong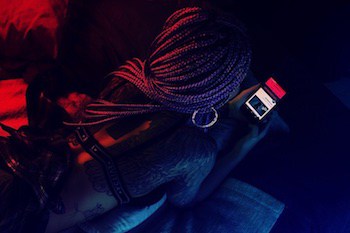 Opening Tinder conversations is a good thing, but by no means does a successful opener guarantee a date. You'll still need to get her to give you her number and/or meet you face-to-face. So you'll need to follow-up strong – perhaps with a fun conversation, or some rapport-building, or whatever works best for your personal style.
The key is to not slip into needy/kiss-up behavior on chat – it makes you look weak and unattractive, and you end up wasting a perfectly good opener.
It's a good idea to immediately ask her out the moment you get her laughing or reacting excitedly during your conversation. You shouldn't let a chat drag on for too long, because you'll run the risk of boring her or turning her off.
The smoother your opener, the better your conversation, and the sooner you ask her out… the sooner those Tinder matches start rewarding you with dates. Now go ahead – open a few girls up and see what happens!
Recommended Tinder Resources & References
Premium Life English shares his #1 successful opening line on Tinder