It's not rocket science, really. It may often feel like it, but understanding women only "feels" impossible because you try to "think" your way around. What counts are the right emotions. Remember that old song "Try a little tenderness"? "You won't regret it, young girls they don't forget it. Love is their only happiness." Your job as a man is to see a woman's feminine nature and respond to it. That's how you talk to women. You'll be surprised how much women's responses to you will improve when you stop tiptoeing around the emotions we all feel, and call them as you experience them.
Communicating Out Of Love
You know how charming old people will sometimes make you the sincerest compliments? My friend was interviewing an old gentleman for her newspaper, and he told her: "You're such a lovely young lady, you must have a lot of love in your life." She had a big smile when she told me about it: "What a sweet old man! If only more young guys were like this." This was in Germany, and I'm sure the old guy had lived through enough pain and hardship to realize what really counts.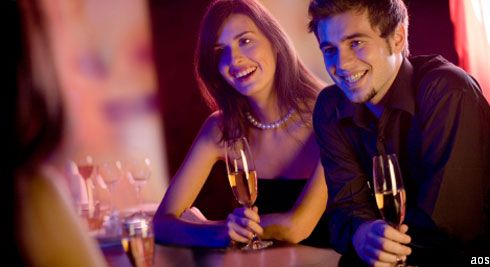 Now get this: I have another friend – he's 22 now, and he uses the same "lines" on girls. Only, they're not lines. For him, love and happiness are truly essential, and when he interacts with women, it shines through. He radiates the feelings, and women love him for it.
A Woman's mind
It's a well-known cliché that women spend lots of time in the bathroom. What the heck are they doing in there? I'll tell you. They are working on their looks with artists' loving hands, designing every detail like it's their latest work of art. And I'm sure you've seen girls compliment each other on the effort they put in – "your hair looks so beautiful today", "that dress fits you well – it compliments your eyes." How many guys do that?
Just as you enjoy the compliments when you get a new haircut or an awesome pair of shoes (come on, you do), girls appreciate getting attention for their sheer femininity and the effort they put into it. They love it when you man the heck up and spell out the feelings they look for: "I can picture you putting on that eyeliner with great care. You deserve great attention for it." Or: "I'm sure all the guys fall in love with you."
Conveying the right message
Notice, on the side, how observations like these disqualify you as a suitor: what you do is suggest that other guys will like this girl for her femininity, her being. You're not indicating yourself – instantly making her wonder about you. "Why doesn't he want me, then?" just a little trick to make yourself interesting.
You must also understand that women – much like us, to some extent – constantly wonder what people really think of them, and what kind of impression they leave.
Society vs. Sensuality
Unfortunately, emotions don't have a prominent place in our everyday life. They have their place in art, like songs, movies or the theater, but in our personal interactions, we are socially "required" to keep these themes well-concealed. They belong in the privacy of the home, or when you're alone. For many people, it feels awkward to openly talk about them.
With that in mind, it's almost an act of courage to bring these feelings up like they're the most natural thing in the world. But they are! And if you do it often enough, talking about love, desire, passion, sensuality will come easily like speaking of a good meal (jeez I'm hungry), an exquisite wine, a great experience: just an everyday occurrence. A man that is that confident about his sexuality, and treats it so naturally, is a great aphrodisiac. And I'm telling you, it's one of the big reasons why girls tend to fall madly for older guys. They have the experience, openness and self-image that many younger guys try to avoid by being "cool".
How to talk to women gets easier when you depart from logical thinking. It's about opening up and saying what really matters. Allow for more love and sensuality in your language and demeanor. Talk about the sun shining on your skin, about the feeling you get in a roller-coaster, about the taste of a kiss or the smell of a woman's hair, about the great chances a girl has for being who she is, about how we all deserve love and affection. Oh, and while you do that, cut down on the made-up coolness.